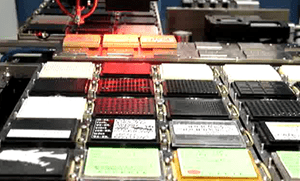 MRSI Systems has been a leading supplier to manufacturers of High Frequency, Ultra High Frequency components for over 30 years. This has enabled MRSI to build unmatched expertise in the assembly technologies required to successfully produce RF and Microwave modules.
In recent years, the use of Radio Frequency ICs has continued to rise, fueled by the need for high switching speeds, higher performance power amplifiers and growth in optical networks.
Market Drivers:
High Frequency RF modules can be found across a wide range of applications, namely: military, aerospace, automotive electronics, telecommunications and data communications.
The market for high-frequency packaging is estimated to grow to $100B in 2020. The growth is driven by:
The RF power semiconductor market is estimated to grow from USD 10.57 Billion in 2015 to USD 31.26 Billion by 2022, at a CAGR of 15.4% between 2016 and 2022 (MarketsAndMarkets).
The use of optical components in Data Communications is on the rise; needed to support hi-speed data transfer – The global cloud computing market is growing at annual rates greater than 25%. Revenue of $110B in 2015 (Synergy Research Group). This drives the need for higher switching speed.
Mobile computing drives traffic to the broadband network, which in turn drives the use of optical transceivers – The worldwide smartphone market will grow from 1.5 billion units shipped in 2016 to 1.92 billion units in 2020 (Radiant Insights). Drives more optical infrastructure.
The global automotive radar market is poised to grow at a CAGR of around 17.4% over the next decade to reach approximately $6.7 billion by 2025 (Accuracy Research LLP).
Challenges:
The Microwave & RF market has some very specific challenges. These are the problems that MRSI Systems solves:
Handling of small and fragile compound semiconductors (CS) components require attention to placement forces and orientation.
Components must frequently be placed in cavities, translating into a need to image and process components in multiple planes.
Components with air bridges and other "no touch zones" require non-conventional pickup.
Components are typically not symmetrical and orientation must regularly be determined using top-side features prior to placement.
Hermetic packaging drives a need for in-situ die attach processes such as eutectic die attach.
Speeds need to allow for the manufacture of a cost effective product.
A robust platform is required to allow for variations in materials and process.
Solutions:
Leading manufacturers of high-frequency radio modules require fully automated, ultra-precision die bonding systems with in-situ capabilities such as epoxy dispensing, eutectic die attach and thermo-compression. Advanced imaging techniques using pattern recognition are needed to orient components. Force control during the picking and placement operations is a must.
Recommendation: Given these challenges and the solutions required, we recommend our MRSI-705 because it delivers these outcomes for customers:
High Speed AND High Accuracy – An advanced axis system driven by brushless DC linear servomotors with linear glass-scale encoder feedback for high speeds and accurate movements.
High Machine Efficiency AND High Product Quality – Built-in internal temperature monitoring ensures consistent placement. Known heat sources, such as motors are designed with gas cooling; ensuring that thermal expansion is kept to a minimum.
Optimum Placement Yields – The system's closed-loop force control enables placement of delicate devices with as little as 10 grams of force. At the other end of the scale, forces up to 2kg are programmable.
Flexible Component Supply Options – We configure the system to meet the needs of your supply chain requirements (waffle pack, Gel-Pak®, wafer, tape and reel and custom trays.
Maximum Asset Use – MRSI-705 machines are designed to handle a wide range of processes. Epoxy dispensing pumps, epoxy stamping and eutectic bonding with scrub and temperature control, are all configuration options that make the MRSI-705 the leading edge solution for RF/Microwave assembly.