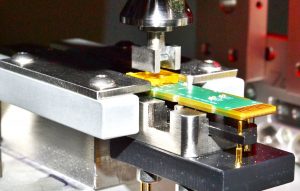 MRSI Systems has been a leading supplier to manufacturers of advanced optical assembly for over 30 years. This has enabled MRSI to build unmatched expertise in the assembly technologies required to successfully produce photonic integrated circuits (PIC).
In recent years, the advantage of transferring data with photons instead of electrons, has become a widely accepted methodology for solving the packaging challenges resulting from our growing demand for data and our insatiable appetite for bandwidth.
Market Drivers:
The market for optical components is estimated to grow from $6B in 2013 to $10B in 2020. The growth is driven by:
The use of optical components in Data Centers is on the rise; needed to support hi-speed data transfer – The global cloud computing market is growing at annual rates greater than 25%. Revenue of $110B in 2015 (Synergy Research Group).
Mobile computing drives traffic to the broadband network, which in turn drives the use of optical transceivers – The worldwide smartphone market will grow from 1.5 billion units shipped in 2016 to 1.92 billion units in 2020 (Radiant Insights).
Demand for expanded bandwidth. Traffic generated by average internet user per month in 2015 was 47.7 gigabytes per month estimated in 2020 to be 114.4 gigabytes (Cisco).
Demand for increased speed. In 2015 the average fixed broadband speed was 25.4 Mbps. In 2020 it is predicted to be 51.4 Mpbs (Cisco).
Demand for reduced energy costs to operate hardware.
Demand for reduced cooling costs for the facilities.
Challenges:
The Optoelectronics market has some very specific challenges. These are the problems that MRSI Systems solves:
The critical requirement to align the light emitting device to other optical components.
A limited tolerance budget (high accuracy required).
Multiple die attach technologies may be involved (Epoxy, Eutectic, In-situ UV).
Speeds need to allow for the manufacture of a cost effective product.
A robust platform is required to allow for variations in materials and process.
Solutions:
Leading manufacturers of fully automated, ultra-precision die bonding systems require a variety of assembly technologies including epoxy, eutectic, thermo-compression, and In-Situ UV attach to solve these challenges. While active alignment of the emitter is an option, it is time consuming and adds dramatically to the end cost of the product. A process utilizing the highly accurate and repeatable assembly platform is far more desirable.
Recommendation: Therefore given these challenges and the solutions required, we recommend our MRSI-M3, because it delivers these outcomes for customers: 
High Speed AND High Accuracy – An advanced axis system driven by brushless DC linear servomotors with linear glass-scale encoder feedback for high speeds and accurate movements.
High Machine Efficiency AND High Product Quality – Built-in internal temperature monitoring ensures consistent placement. Known heat sources, such as motors are designed with gas cooling; ensuring that thermal expansion is kept to a minimum.
Optimum Placement Yields – The system's closed-loop force control enables placement of delicate devices with as little as 10 grams of force. At the other end of the scale, forces up to 2kg are programmable.
Flexible Component Supply Options – We configure the system to meet the needs of your supply chain requirements: waffle pack, Gel-Pak™, wafer, tape and reel and custom trays.
Maximum Asset Use – MRSI-M3 machines are designed to handle a wide range of processes. Epoxy dispensing pumps, epoxy stamping and eutectic bonding with scrub and temperature control, are all configuration options that make the MRSI-M3 die bonder a complete assembly solution.