WHY DO CUSTOMERS CHOOSE MRSI?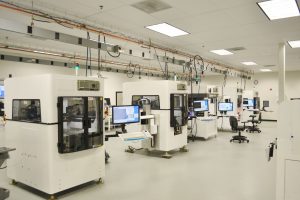 Why do customers come to MRSI to solve their problems? Why do manufacturers of advanced packaging perceive that MRSI can optimize the performance of their process including yield, throughput and uptime? Customers like BAE, GE Medical, Finisar, Amphenol, Fabrinet, AOI, TESAT, O-Net Technologies, Sanmina, Lockheed, and DRS have all turned to MRSI for ultra-precision die bonding solutions, for over 30 years.
Our customer playbook is executed around 14 core values, which gives insight into why customers choose us:
Customer Focus
Accuracy & Reliability – Our robust systems will deliver consistent accuracy and reliability at the throughput required by our customers.
Customer Centric – Focus on the needs of our customers and improve performance by actively seeking their input, their "Voice"
Configured systems – We will diagnose your requirements to deliver the most appropriately configured system
Ease of Use – Every system will be predictably easy to use
Competitively Priced – We will offer the best value in terms of functionality, performance and return on investment in the industry.
Maintain a global perspective
Working Smart
Improve what matters by effective time management
Embrace a change in direction when required – Drive continuous improvement
Avoid doing things the same old way – explore innovative approaches
Work efficiently
Acting Like an Owner
Focus on generating value for our customers and therefore our business
Be accountable for our actions and inactions
Empower and reward our people for taking on new initiatives and ways to solve problems
Continuously learn by reviewing both accomplishments and failures
AND THE RESULTS ARE COMPELLING
Fabrinet is very pleased to partner with MRSI Systems to support our shared customer base in our new Fabrinet West facility located at the heart of the Silicon Valley. MRSI Systems is the industry leader in providing equipment and solutions for one of the most critical processes in advanced packaging – ultra-precision and high speed die bonding. Hong Hou
MRSI's equipment is ideal for the mass production of Optical Communication Products, with a component placement accuracy that meets 3um @ 3 sigma at high efficiency levels. Competitively MRSI systems are more effective because of their flexibility, unique automatic nozzle change, stability and reliability. Tu JiWei
As a Military Contractor we have a large number of assemblies to build and hundreds of part numbers to deal with. The flexibility afforded by the MRSI 705 makes it the ideal choice for this type of work. The ability to handle delicate components and place them with extreme accuracy, while controlling the force of placement allows us to build complex assemblies that meet our strict reliability requirements. A component that is misplaced or has excessive epoxy squashed out, due to excessive force, can cause costly rework that may affect reliability. The machine is a reliable workhorse and MRSI Systems has been very responsive to our specific needs. MRSI Systems has been a great partner! Rich Rochford
MRSI bonders are robust and flexible. They provide a one-stop process solution for our high end fiber optical packages.
Tao Fei
MRSI's M3 die bonder, which we use for light engine packaging in optical applications, meets bonding accuracy of "3um @ 3 sigma" with high efficiency, and it is flexible for mass production, so that we can meet market variation demand. Jason Chien
MRSI bonder provides a high precision placement accuracy bonding solution, with a flexible and reliable design that's very convenient for multiple applications, and particularly for optical component subassembly. T.O. Chan