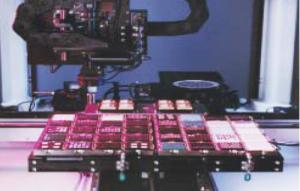 MRSI Systems has been a leading supplier to assembly houses and OEMs involved with hybrid assembly for more than 30 years. For such assemblers, machine requirements vary greatly from one job to another. Consequently, customers look for a platform machine that offers maximum flexibility when it comes to range of components and substrates handled, die presentation schemes, and process-related capabilities.
Whether it is dispensing or stamping multiple epoxy bonding materials, or handling a high-count of varied components types, MRSI systems offer the ultimate flexible platform for such demanding environments.
Market Drivers:
In recent years, niche applications, such as automotive electronics, have become mainstream. As a result, Die Bonding Systems must not only offer "capability" but also "capacity". MRSI systems do just that, with an open platform concept that offer versatility, process capability and manufacturability.
Hybrid packages are found across a wide range of applications, namely: medical, military, aerospace, automotive electronics, telecommunications and data communications.
The market for hybrid assembly still remains a key segment of semiconductor assembly. The growth is driven by:
The end-of-line assembly service market, estimated at $29B in 2015, is expected to expand at a CAGR of 4.7% from 2015 to 2021, to account for US$39B by 2021. The communications sub-segment is expected to grow at CAGR of 6% during that forecast period. (Persistence Market Research 2015-2021)
The RF power semiconductor market is estimated to grow from USD 10.57 Billion in 2015 to USD 31.26 Billion by 2022, at a CAGR of 15.4% between 2016 and 2022. (MarketsAndMarkets 2016-2022)
The global automotive radar market is poised to grow at a CAGR of around 17.4% over the next decade to reach approximately $6.7 billion by 2025. (Accuracy Research LLP 2015-2025)
The "Internet of Things (IoT) is anticipated to be a major engine of growth over the next five (5) years. Volumes are expected to rise from 10 billion devices in 2015 to 50 billion in 2020. IDC predicts that the global IoT market will grow at a rate of 17.5% from $1.9 trillion in 2013 to $7.1 trillion in 2020. (Meptec 2015-2020)
Challenges:
The Microelectronics market has some very specific challenges. These are the problems that MRSI Systems solves:
Assemblers with broad portfolios require assembly systems that can handle quick changeovers, varied process profiles, high component counts, family setup capabilities and extreme flexibility.
Handling of small and fragile compound semiconductors (CS) components to large sensor devices. Ability to place both active and passive components.
A need for dispensing of a wide range of adhesives for die attach, dam and fill and encapsulation.
Components must frequently be placed in cavities, translating into a need to image and process components in multiple planes.
Component orientation using top-side features prior to placement.
Hermetic packaging drives a need for in-situ die attach processes such as eutectic die attach.
Speeds need to allow for the manufacture of a cost effective product.
A robust platform is required to allow for variations in materials and process.
Solutions:
Leading semiconductor assemblers require fully automated, ultra-precision die bonding systems with in-situ capabilities such as epoxy dispensing, eutectic die attach and thermo-compression. Advanced imaging techniques using pattern recognition are needed to orient components. Force control during the picking and placement operations is a must.
Recommendation: Given these challenges and the solutions required, we recommend our MRSI-705 because it delivers these outcomes for customers:
Flexible Component Supply Options – We configure the system to meet the needs of your supply chain requirements (waffle pack, Gel-Pak®, wafer, tape and reel and custom trays).
High Speed AND High Accuracy – An advanced axis system driven by brushless DC linear servomotors with linear glass-scale encoder feedback for high speeds and accurate movements.
High Machine Efficiency AND High Product Quality – Built-in internal temperature monitoring ensures consistent placement. Known heat sources, such as motors are designed with gas cooling; ensuring that thermal expansion is kept to a minimum.
Optimum Placement Yields – The system's closed-loop force control enables placement of delicate devices with as little as 10 grams of force. At the other end of the scale, forces up to 2kg are programmable.
Maximum Asset Use – MRSI–705 machines are designed to handle a wide range of processes. Epoxy dispensing pumps, epoxy stamping and eutectic bonding with scrub and temperature control, are all configuration options that make the MRSI-705 the leading edge solution for hybrid assembly.