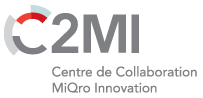 The C2MI is an international beacon in advanced packaging and microsystems. As a Centre of Excellence, its goal is to allow its members to foster the growth of the microelectronics industry through the accelerated commercialization of market-driven prototypes.
Three words define C2MI :
INNOVATION COLLABORATION COMMERCIALIZATION

SEMI is the global industry association serving the manufacturing supply chain for the micro- and nano-electronics industries.

Delivering news and information, covering the world of Semiconductor Packaging and advanced electronics packaging, to our readers.

The International Microelectronics Assembly and Packaging Society (IMAPS) is the largest society dedicated to the advancement and growth of microelectronics and electronics packaging technologies through professional education.

Chip Scale Review is the first word in middle-end and back-end technologies for advanced semiconductors!