OUR STORY AND CORE VALUES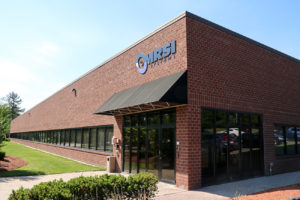 HISTORY
MRSI was founded in Massachusetts in 1984 with the goal of providing automated solutions for dispense and assembly of microelectronic devices. The Company was primarily focused on servicing the hybrid microelectronics industry through the design and manufacturing of precision die bonding and dispensing equipment. In 2002 the Company was acquired by the public company Newport Corporation. In 2014 the management executed an MBO from Newport.
WHO WE ARE
MRSI Systems is a leading manufacturer of fully automated, high-precision, high-speed die bonding and epoxy dispensing systems. We enable customers to optimize the performance of their process including yield, throughput, and uptime by building systems that use our unique expertise. In summary, this includes our proprietary software, proven hardware, deep process knowledge, state-of-the-art manufacturing, and a world-class customer service team. MRSI's systems are built on common platforms that can be configured to meet specific customer requirements. These platforms are designed to be scalable for R&D prototyping, pilot production and high volume manufacturing. Our solutions deliver the best financial returns in the industry while integrating seamlessly into our customer's production. Markets include Telecom/Datacom (Data Center), Aerospace & Defense, Medical Devices, Computers and Peripherals, and Industrial. Since 1984, we have been recognized as the standard of the industry, delivering our solutions to leading optoelectronic and microelectronic customers worldwide.
Our headquarters is located in a 50,000 square foot building in Billerica, MA in the greater Boston area. MRSI's sales are supported by a global network of direct service and support professionals located in China, Taiwan, Singapore, Korea, Thailand, Malaysia, the Philippines, Israel, Europe, United Kingdom, and the United States.
WHERE WE ARE GOING
The Company's die bonding and dispense systems share a robust and common platform as the cornerstone for every product shipped to customers. However, MRSI configures each system to unique production requirements by incorporating a wide range of optional features based upon customer specifications. This architecture allows MRSI to deliver highly flexible systems capable of handling customers' evolving die bonding and dispensing requirements. A key competitive advantage for the Company is its ability to create derivatives of existing systems to serve new markets and applications.
New Markets: MRSI will launch a new platform family, once it has validated a precision die bonding need, not currently met by the industry. MRSI's product development roadmap spans a range of initiatives aimed at solidifying the Company's position in the precision assembly market, while expanding its opportunity set by introducing systems capable of addressing various emerging markets. This roadmap will include configurations for more dedicated, higher throughput applications. MRSI's tools leverage a well-defined set of core competencies in system design, software development, machine vision, motion control, industrial automation and optical design expertise.
How We Get There – Dedication
Dedication-to our customers is the reason they come back. Dedicated to improving their bottom line with maximum efficiency. Dedicated to delivering the results that their customers continually demand. Dedicated to collaboration, as we depend on our customers/partners input to make improvements to the systems. This partnership has led to the development of systems with improved functionality and increased utilization on the manufacturing floor. Our employees realize we exist because of our customers and their ability to succeed.
Dedication-to our employees and acknowledgment of their contribution in designing and building a reliable product. Our employees are empowered on every level to do whatever is needed to ensure quality and build and install systems that meet our customer's requirements.
Dedication-to manufacturing excellence – The Company employs a demand flow technology ("DFT") manufacturing model encompassing standardized processes through lean manufacturing techniques such as 5S and Kaizen. MRSI has a fully operational ERP system in place, which is enabled by a stable and flexible manufacturing supply chain. The Company has repeatedly proven its ability to be agile and responsive to customer demand spikes.
The business is built on the following three core values:
1. Customer Focus
Accuracy & Reliability – Our robust systems will deliver consistent accuracy and reliability at the throughput required by our customers.
Customer Centric – Focus on the needs of our customers and improve performance by actively seeking their input, their "Voice"
Configured systems – We will diagnose your requirements to deliver the most appropriately configured system
Ease of Use – Every system will be predictably easy to use
Competitively Priced – We will offer the best value in terms of functionality, performance and return on investment in the industry.
Maintain a global perspective
2. Working Smart
Improve what matters by effective time management
Embrace a change in direction when required – Drive continuous improvement
Avoid doing things the same old way – explore innovative approaches
Work efficiently
3. Acting Like an Owner
Focus on generating value for our customers and therefore our business
Be accountable for our actions and inactions
Empower and reward our people for taking on new initiatives and ways to solve problems
Continuously learn by reviewing both accomplishments and failures
MRSI Systems has succeeded through great products and talented staff. It has consistently improved the performance of its systems, which has directly improved the success of its customers.  MRSI is made up of a great team of people who have executed against the company's core principles for over 32 years. MRSI continues to seek out excellent people and great customers.